Posted by Thomas Nephew on 3rd July 2004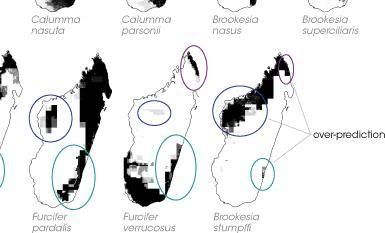 To me, this is extremely, triumphantly, hopping-up-and-down cool: scientists from the American Museum of Natural History used archived museum records, satellite imaging, computer mapping (a.k.a. GIS), and genetic algorithms to discover unsuspected chameleon habitats in Madagascar. From NASA's "Earth Observatory" web site, Madagascar's Chameleons:
Raxworthy and his colleagues have been developing predictive models that are based on a combination of satellite observations of environmental characteristics — such as land cover from NASA's Moderate Resolution Imaging Spectroradiometer and topography from the Shuttle Radar Topography Mission — and museum records of locations where biologists and naturalists have spotted different chameleons over the years. […]

The scientists were initially surprised that for four species, the models predicted that the species lived in areas where no specimens had ever been documented before (bottom row, colored ovals). … [and] eventually discovered that far from being a mistake, these overlapping "over-predicted" areas actually pointed to locations where new species of chameleon were likely to be discovered.
(The "overpredicted" areas are circled in the figure above.) In the accompanying article Uncovering Chameleons, writer Rebecca Lindsey explains:
To come up with ecological niche models for Madagascar's chameleons, Raxworthy and his colleagues [used] a genetic algorithm nicknamed GARP (which stands for Genetic Algorithm for Rule-set Prediction).

GARP evaluated the models based on the number of chameleon location points from the original museum records it correctly predicted, as well as by its ability to identify places where the species would not be found. GARP kept evolving the mathematical rules of the survivors and deleting the losers until it produced a single model that it couldn't improve upon—survival of the fittest.

The real world soon provided confirmation — of a sort — for the satellite image-museum data-GARP process:
"At the time this modeling project was going on, we were also identifying chameleon specimens we had collected on previous expeditions to Madagascar," explains Raxworthy, "so the discoveries were going on in parallel universes, so to speak. Then one day I realized that one of the new species we had discovered actually came from an over-predicted area on one of the model's maps. It finally occurred to me that maybe each of those areas that we thought were model foul-ups could actually be the location of new species".

As the team identified more of the specimens, the number of newly identified species began to mount. In all, the over-predicted areas identified by the models were home to seven new species of chameleon that had never been documented by scientists before. (emphasis added)
My rudimentary evolutionary theory suggests to me the newly identified species occupy ecological niches that might well have otherwise been occupied by those Raxworthy et al focused on (e.g., Brookesia stumpfii, see figure above). It would be interesting to know just how divergent — genetically and phenotypically — the newly discovered species are from those 'erroneously' predicted to be there by the GARP process: close cousins? Convergent evolution?
The method Raxworthy et al developed (or at least convincingly demonstrated, I'm not up on this) has obvious applications in ecology and conservation biology at minimum. But it might have applications in sociology and political science as well — I imagine the thing being modeled doesn't absolutely have to be an evolving entity of its own for GARP etc. to be worth a try. At any rate, an article about all this has been published in Nature,* and I may actually make my way to some university library or other to xerox it.
Waah. Those are the toys I want to play with. Hmmm… maybe I can.
=====
* Christopher J. Raxworthy, Enrique Martinez-Meyer, Ned Horning, Ronald A. Nussbaum, Gregory E. Schneider, Miguel A. Ortega-Huerta2 & A. Townsend Peterson. Predicting distributions of known and unknown reptile species in Madagascar. 2003. Nature 426, 837-841.
UPDATE, 7/6: More genetic algorithms in the news: a German-American team used the technique to optimize network server performance. Via Gary Farber.
Posted in Post | No Comments »