I've rarely been as upset by an event as by the Newtown killings; the only similar thing I can think of right now is 9/11.  On learning of the massacre on Friday, I'd thrown my papers at my computer screen, walked out of the office about for a minute, came back, angrily typed "FUCK THE GOD DAMNED NRA" on my Facebook page, hesitated for a moment, and posted it.
Deciding to go
Amid a variety of responses (mostly positive), one friend supplied some more coherent words to go with the sentiment:
"It's like with the weather and global warming: We can't say for certain that the NRA's tooth-and-nail opposition to any sort of reasonable gun regulation anytime anywhere led directly to this particular incident. But we CAN say for certain that the NRA's tooth-and-nail opposition to any sort of reasonable gun regulation anytime anywhere makes incidents like this one much more likely to happen. So, yes: FUCK THE GOD DAMNED NRA." 
That's it. This country has half the world's firearms and 80% of the gun deaths [2] among the 23 richest countries. Either we're genetically crazier and meaner than anywhere else, or something else is going on.  I think it's the militancy of the NRA, a combination lobbyist/chamber of gun commerce organization that helps make owning even the most absurdly overpowered gun seem virtuous to zealots, and that helps oppose even the most minimal of regulations.
So when I saw there was a plan to march to a DC office of the NRA, I felt like I had to join it or feel like I'd let myself down, even if it was during work hours.  I did so despite some misgivings: would this event become Exhibit X in gun advocates' case that they're the ones being persecuted?  Might it be better to just ignore the NRA and take our signs and demands elsewhere?  I decided I was overthinking it — especially once I saw the online gun nut hordes descend on the Facebook event page, sneering, jeering, and (I think) strongly suggesting to anyone else "wow, Adam Lanza probably thought all of this crazy stuff too."
The event
I ducked out of work at 11:30*, and arrived at the gathering place at New Jersey and D Street, SE around noon — a few blocks from the Capitol Building, with its "in session" light on.
Three short videos: (1)
demonstration
[3]
, (2) interview with demonstrator
Deb Morris
[4]
, (3) interview with demonstrator
Mary Ester
[5]
; all 3 play
automatically in sequence.  Or click a link for a single video.
I found a crowd of maybe a couple hundred people and what seemed like a couple of dozen newspeople and professional cameramen and -women.  (As ever, everybody had a camera or smart phone and was busily snapping pictures or recording the scene.)
An organizer reminded the crowd, perhaps unnecessarily, that "this is a solemn occasion," and urged us not to get into confrontations with any counterprotesters.We then took the short, two block walk to the NRA Federal Affairs Division at 410 1st St SE — apparently in the same building as the popular "Bullfeathers" pub.  Either the  "Shame on the NRA!" chant felt a little too confrontational at first, or I'm not the only one who just doesn't like chanting in unison in the first place.  But then a guy who turned out to be a Republican media consultant [6] leaned out of his office window above a neighboring Subway store, and yelled "Arm the teachers!"  After that most of us were just fine with "Shame on the NRA."
The rally itself was a little awkwardly staged, but served the purpose of learning just what the NRA's many absurd legislative priorities and views are.  Organizers read each item in the 2012 NRA House Candidate Survey [7] to the crowd — each paired with the name and age of one of the little victims in Newtown — and then we all answered together "NO we disagree about [lengthy NRA candidate survey position]!  Shame on the NRA!"  Since some of the items ran to forty words, this made for a slightly tedious demonstration experience, but whatever.  Here are the crowd responses prompted by the organizers, numbered to correspond to the NRA survey:
I disagree with the NRA and would support legislation to ban the manufacture, sale or transfer of semi-automatic firearms and ammunition magazines capable of holding more than ten rounds of ammunition.
I disagree with the NRA and oppose national Right-to-Carry reciprocity legislation.
I believe that all firearms transactions — including private transfers between non-licensees, such as family members and friends — should be federally regulated, and I support additional legislation to require the federal government to approve all private firearms transfers.
(NRA item skipped in rally list: Bureau of Alcohol, Firearms, Tobacco firearms sales reporting requirements in Southwestern states)
I disagree with the NRA and believe imported firearms should be treated differently than identical American manufactured firearms.
No, I disagree with the NRA [that the Second Amendment to the United States Constitution guarantees a fundamental, individual right to keep and bear arms and that it applies to all Americans regardless of where they live in the United States.] **
I disagree with the NRA and oppose protection from disclosure of firearms trace data.
I disagree with the NRA. All firearms should be banned.**
About halfway through the items, a lone heckler piped up with the best thing she could think of, and I quote: "blah blah blah, blah blah blah blah blah." Then she left to universal shrugs.
After the NRA survey part was over, there was also a "Citizen Questionnaire for the NRA." The paper document I got providing the link to that "half the world's firearms" item above, and other useful information, such as the NRA's ties to the gun industry [8], and the fact that a recent poll by Frank Luntz found that many common sense gun control laws are supported by a majority of NRA members [9] — including criminal background checks on all gun owners.  It also noted that the NRA has opposed limits on combat-style semi automatic assault weapons, measures to prevent people on terrorist watch lists from obtaining weapons, measures to limit high capacity magazines, and even measures to maintain records of gun purchases.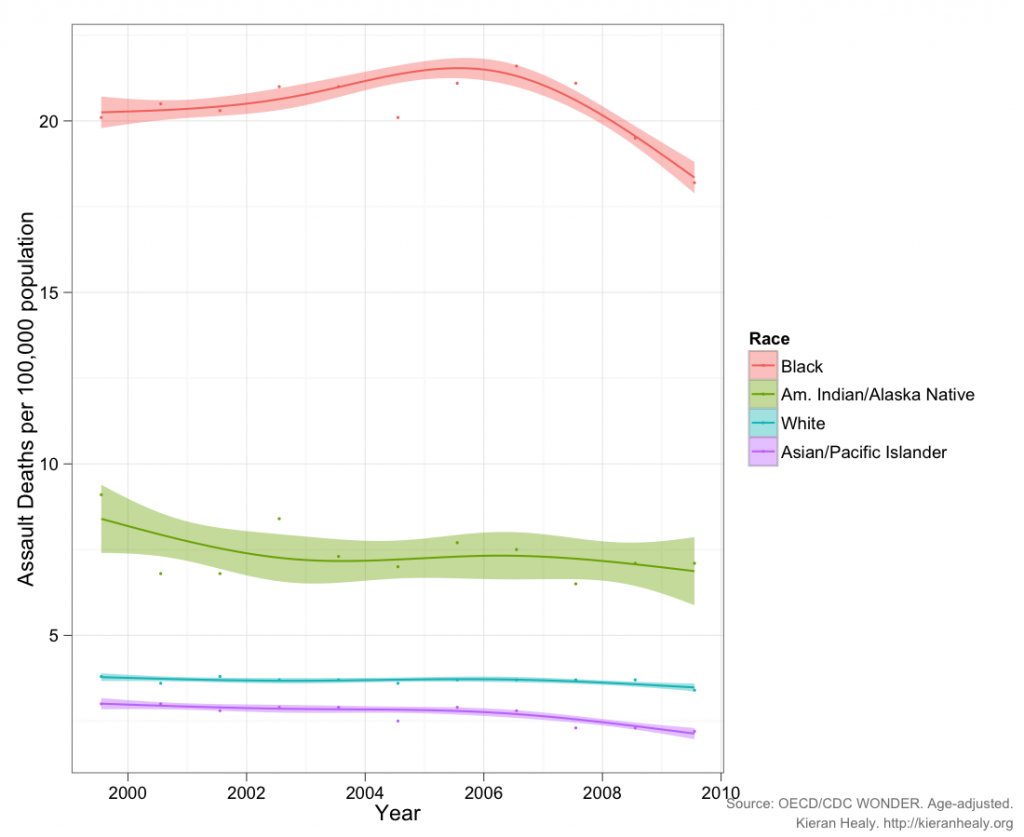 [10]
US assault deaths by race, 1999-2009, analysis by
Kieran Healy
[11]
.  Click image for
additional charts of US assault deaths by region (South is highest), OECD assault
deaths by country (US far and away highest). 
UPDATE, 12/22
: about 2 out of 3
homicides have been due to guns since the 1990s, according to
data from the
[12]
Bureau of Justice Statistics
[12]
.
Talking with participants
Then the rally disbanded.  On my way out, I stopped and talked with two other rally goers on video (see above).  Deb Morris pointed out that this was "her issue too", a diplomatic way of pointing out that she was one of the few persons of color on hand.  She explained that she had a nephew who had been paralyzed and then died too young as the result of a gunshot.  It's true that events like Newtown, Aurora, or Virginia Tech galvanize people, including me, yet they're the tip of the iceberg compared to "everyday" gun-related deaths, particularly among minorities.  Ms. Morris continued:
I don't understand the people who feel the necessity of having guns to protect themselves from … whom?  I mean they always say they're going to protect themselves from some outside force, but they always seem to end up killing family members or friends or a child gets a hold of a gun and shoots somebody or shoots himself.  […] Part of the reason I also came is there's so much gun violence in African American communities, I think it's really important that we also be a part of this because guns are going into the hands of people of all colors.  I saw an article the other day about Black Friday where 115000 [ed. – actually 155000 [13]!] gun permits were sold.  I mean that's insane.
Mary Ester was less completely anti-gun than Ms. Morris, but wanted to take steps to prevent mass murders like Newtown:
…I believe we're making it too easy for dangerous people to get dangerous weapons.  And I think that we can do things that will help prevent tragedies like this, like closing the gun show loophole, like banning assault weapons, but more importantly, banning the high capacity clips that go with assault weapons.  […] I think that as the President said, we can't stop tragedies like this all the time, because there is the Second Amendment, and there's a right to bear arms, however, we can make it more difficult for the wrong people to get guns.
Afterwards, she also said that the NRA actually didn't do very well in the past election, with just a ten percent win rate; she also questioned the organizers' decision to advocate a complete firearms ban, saying that just wouldn't happen and (if I recall correctly) that it might make any progress more difficult.
The upshot
I came away a little more hopeful than when I went.  The protest was bigger than I had pessimistically estimated.  And the counterprotest was much, much smaller than I thought it would be — especially after the late-night sparring with online gun advocates on the event's Facebook page.  I think "Stop the NRA" is a better message than my original one, and I think it just might be possible this time.
Tomorrow, the same people from CREDO will deliver petition signatures to the NRA at its press conference [14] and will hand out their "Stop the NRA" signs to all who want them.  I don't think I can join in this time, but I'm glad I was there on Monday.
=====
* I was back by 1:30, and worked late to make up the time.
** I wasn't sure I disagreed on all seven statements in the way the organizers wanted me to. I don't think all firearms should be banned, and I guess I think there is a right to have one in the home for self-defense. I just don't locate that right in the Second Amendment, but in the 9th Amendment [15] about otherwise unenumerated but real rights. The 2d Amendment in my view doesn't even ensure concealed carry except as a state or local militia, and I think its properly understood wording overrides the full faith and credit clause in that regard as well — one's permission to do so in State X does not extend automatically to State Y. States can decide how to govern their own militias — but they have to be militias, at least they ought to be: the amendment doesn't extend to random zealots wandering around with assault rifles slung over their shoulders.