Posted by Thomas Nephew on April 4th, 2010
Mountaintop removal mining (MTR) is a particularly devastating variety of strip mining practiced in the Appalachian Mountains, particularly in West Virginia, in which whole mountaintops are pulverized to get at the seams of coal beneath. The "overburden" is pushed into neighboring valleys, resulting in ugly, scarred moonscapes and above all, buried, ruined streams that — when they do emerge from the rubble — are too high in dissolved pollutants to support life.
On April 1st, the EPA issued new guidelines that spelled out the downstream conductivity standards that MTR would have to satisfy in the future — standards described by Guardian reporter Susanne Goldenberg as "effectively call[ing] time today on one of the most destructive industries in America."
But it's not clear that's what the guidelines do.  True, EPA chief Lisa Jackson appeared to back up that judgment:
"You are talking about either no or very few valley fills that are going to be able to meet standards like this," she said. "What the science is telling us is that it would be untrue to say you can have any more than minimal valley fill and not see irreversible damage to stream health."
While that sounds great, Ms. Jackson also said "This is not about ending coal mining," and a look at the supporting EPA documents makes that plain:
Q. Will this memorandum stop mining?
A. No. EPA has recently approved permits for some surface mining projects in Appalachia and expects to continue to do so, where these projects are consistent with the guidance. EPA recognizes the importance of coal to Appalachia and to the nation's energy mix, but also has an obligation based on the law and emerging science to prevent harm to our waters and environment. Projects that are damaging to water quality will be closely scrutinized, but mining companies that employ the best management practices contained in this memorandum and meet water quality protection standards should expect favorable actions on their permits…
The Charleston Gazette's Ken Ward Jr. ("Coal Tattoo") says the simple result is that EPA can block new permits or "demand significant changes" when downstream conductivity is projected to exceed 500 microSiemens. The "slightly more complicated" outcome?
If water quality modeling for a proposed permit indicates conductivity greater than 500 will result, EPA will assume a violation of water quality standards will occur, that is, unless "based on site-specific data, the state has an alternative interpretation of their water quality standards that is supported by relevant science.

And if modeling suggests conductivity will end up between 300 and 500, then EPA "should work with the permitting authority to ensure that the permit includes conditions that protect against conductivity levels exceeding 500.

Further, if a new mine is proposed in an area where streams already exceed 500 — which could include many parts of West Virginia's coalfields where there has already been significant mining — EPA "will coordinate with the permitting authority on a site-specific basis to ensure these new discharges will not cause or contribute to a violation of water quality standards.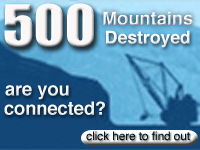 As Ward points out in a subsequent post, there are simpler ways to ban MTR — such as, say, banning MTR.  It seems to me that permits for new MTR mines may become harder to obtain than was once the case — but even these permits will turn on the outcomes of what will surely be battles about water conductivity predictions.  And the April 1 guidance appears to apply to permits for new MTR operations rather than existing ones.*  In other words, MTR probably isn't going away just yet.
Moreover, the real impact of regulations for new mines also depends on the "MTR reserves" in the affected areas.  Put differently, last week's EPA regulations may have closed the barn door too late: there may not be all that many more economically attractive prospective MTR mines out there.  In another interesting post, "Must-read report: The decline of Central Appalachian coal," Ward points to the findings of Rory McIlmoil and Evan Hansen which indicate a "peak coal" moment has come and gone in the Central Appalachians, with prospects of declining reserves and declining worker productivity ahead.
The cynical view and the let's get on with it anyway view
Coming as it does on the heels of what was at best a political gift to climate change legislation opponents — the opening of new offshore oil areas on the Atlantic seaboard — a cynical observer might be tempted to think that the Obama administration wanted to throw a bone to environmentalists without paying too much for that bone. The near-ecstatic reaction of the Sierra Club's Carl Pope suggests that whatever it cost, Obama got his money's worth.  Noting the relaxed reaction of Senator Robert Byrd to the guidance, Pope gushed: "This is elegant governance — the use of straightforward science and law to bring together parties that might not otherwise agree."
But there's an alternative explanation: Byrd knows there aren't that many new mines coming anyway, and that the EPA has provided fairly explicit instructions for stop-gap workarounds called "sequenced valley fills" that will allow existing MTR to continue — despite these measures merely enabling clearer measurements of the failures of so-called best practices that are themselves "unproven in their effectiveness to protect water quality and to prevent significant degradation." "Sequenced valley fills" may or may not sound sophisticated, but all it means is the idea that mines should fill one valley at a time with overburden, rather than many; this at least allows the mine's effects to be monitored more carefully, but doesn't really do anything to prevent water pollution, let alone MTR itself.  Again, from the EPA "Detailed Guidelines": "The sequenced approach, or another comparably effective measure, should be employed to account for uncertainty regarding the ability of current project best management practices to address the potential adverse impacts of multiple fills."**

For their part, two Senators who've been following MTR closely, Cardin (D-MD) and Alexander (R-TN) — and who are sponsoring a simple bill they believe will help end the practice, S. 696, the Appalachian Restoration Act — are less exuberant than the Sierra Club's chairman.  Both describe the new guidance as useful or helpful, but add, as Cardin put it,
The guidance for approving mining permits, based on these new scientific studies, will help control the damage caused by mountaintop removal mining. But the science shows us that if we are to truly protect our mountains, streams and the people who depend on them, we must bring the practice of mountaintop removal mining to an end. Senator Cardin and Senator Lamar Alexander (R-TN) have sponsored S. 696, The Appalachian Restoration Act that would end the practice of mountaintop removal coal mining.
They believe they can accomplish that by simply adding a suitable definition of "fill material" to the Federal Water Pollution Control Act: something that "replaces a portion of the waters of the United States with dry land" or "modifies the bottom elevation of a body of water for any purpose."
Advocacy groups opposing MTR have banded together under an "Alliance for Appalachia" banner; as a coalition, they're applauding the new guidance, but individual members such as OVEC (Ohio Valley Environmental Coalition) are also linking to Ken Ward, Jr.'s more sober takes on the news.  At a minimum, environmental remediation and economic revitalization are sorely needed in regions affected by surface coal mining. And if MTR mining is seen to continue when the dust clears, the members of Alliance for Appalachia will continue to deserve help opposing that as well.
To that end, consider buying the CD depicted to the right: Coal Country Music.  100 percent of the proceeds benefit the Alliance for Appalachia; musicians include John Prine, Bonnie Raitt, Kathy Mattea, Willie Nelson, Ralph Stanley, Jr., the Klezmatics, and many more.  My favorite so far: Acony Bell, sung by Gillian Welch.
=====
* I may not be understanding "permit" correctly in this context.  If permits need to be periodically reissued for a given operation, then the effect of the guidance is stronger.
**The full title of the detailed guidance suggests the true, more limited impact of that guidance: "Improving EPA Review of Appalachian Surface Coal Mining Operations under the Clean Water Act, National Environmental Policy Act, and the Environmental Justice Executive Order." (emphasis added). The full set of EPA documents associated with the new guidance are collected here.
UPDATE, 4/29: Told you so — They're Still Blowing Up Our Mountains," Matt Wasson, Appalachian Voices via the Institute for Southern Studies: "here are five reasons why this guidance doesn't immediately or permanently put an end to mountaintop removal: 1. The EPA's action will not affect permits that have already been issued. Moreover, an excellent piece of reporting by Charleston Gazette reporter Ken Ward revealed that those existing permits will allow some companies to continue mountaintop removal operations without a hitch for the next couple of years. 2. …"