Posted by Thomas Nephew on September 17th, 2005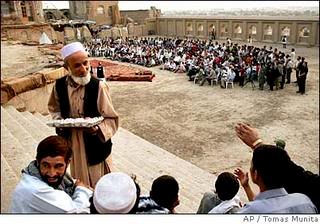 A vendor sells boiled eggs during a performance of
Shakespeare's 'Love's Labor's Lost' in Kabul's Babur Garden.
Via
Truth and Beauty
.
A bit of nice news for a change. The Associated Press' Daniel Cooney reports (via the Boston Globe):
Four centuries after the famous bard's death, one of his plays has been adapted for the local culture in an effort to help revive a once-thriving theater scene and to promote peace in a country riven by ethnic hatred and still wracked by violence after decades of war.

"Theater is the best way to communicate messages in Afghanistan, whether it be about peace, democracy, or women's rights. It's much more popular than television,' said Aziz Elyas, an Afghan playwright. "But during the Taliban's time, it wasn't allowed. They said Islam forbid it.' […]

In the past week, "Love's Labor's Lost,' a Shakespeare comedy, has been performed in the capital to packed audiences of local royalty, diplomats, aid workers, residents, and street kids.
"Love's Labor Lost" turns out to be an interesting choice — it's about men who initially forswear women to devote themselves fully to learning and books, only to be convinced that some remarkable women they meet are of far greater value. Given Afghanistan's recent reign of terror by blinkered scholastics, its history of repression of women, and the still unsatisfactory status of women there, this is a nicely chosen play. Good for its producers — I just hope at least a few women were able to attend the performances.
I saw this first at the wonderfully named "Truth and Beauty" blog, whose proprietor Baraka quotes some relevant lines:
From women's eyes this doctrine I derive.
They sparkle still the right Promethean fire;
They are the books, the arts, the academes,
That show, contain, and nourish all the world…
Let us once lose our oaths to find ourselves,
Or else we lose ourselves to keep our oaths.
It is religion to be thus forsworn,
For charity itself fulfils the law
And who can sever love from charity?'
Baraka limns this as decrying "the stupidity of blind adherence to vows or books, and the ultimate need for compassion & love to suffuse all actions," and adds:
I'd rather like to be a part of the crowd in that garden in Kabul, under the stars, listening to Shakepeare in Pashtun, dreaming of & planning for new days to come.
In the spirit of those new days, I'll close with one of my favorite photographs ever — of women in January 2002 waiting at the gates to apply to northern Afghanistan's University of Balkh, for the first time in years.