Posted by Thomas Nephew on 11th November 2012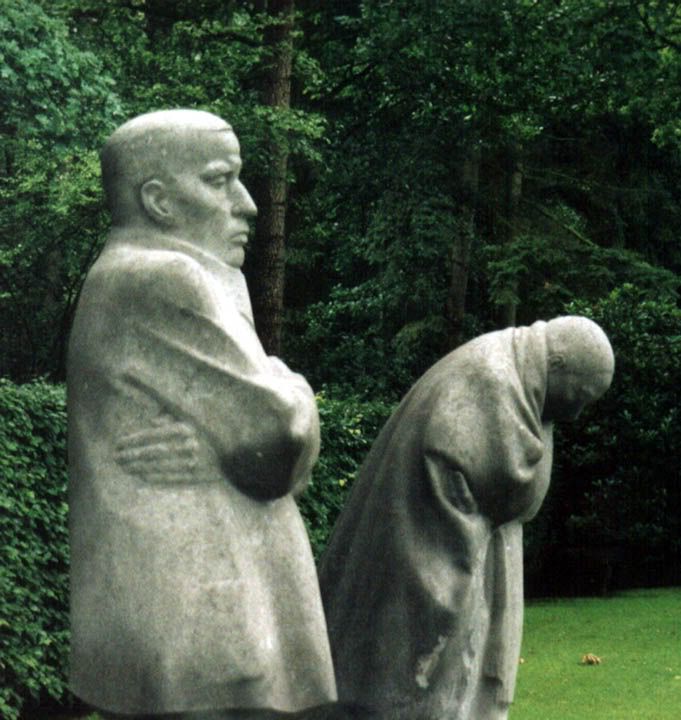 "Mahnmal," (lit. "Warning monument," usu. "Grieving Parents") Kathe Kollwitz, 1932.
Photo by Tony Novosel
Today is Armistice Day, marking the end of combat in World War I. I'm seeing other remembrances of it on the Internet, and thought I'd add this one. It's titled "Grieving Parents" or "Mourning Parents" in English, but the true name, in German, is simply "Mahnmal" –  "Warning Monument."
Kathe Kollwitz's younger son Peter volunteered for the German army when World War I began, and died in Belgium in 1914. Kollwitz — a socialist and eventual communist, as it happened — began work on this the next year; it was placed in the Roggevelde-Eesen German military cemetery in 1932.*
To me, this is one of greatest sculptures of all time, a Pieta of this world, not the next: the mother collapsing as if shot, the father grimly holding on to himself to keep from doing the same; eternal, unassuageable grief set in stone. Multiply this nine millionfold: World War I. Multiply it millions upon millionsfold again: the wars still fought after the war to supposedly end them all.
—
Each wartime grief has a particular story.  In this one, Kathe Kollwitz's younger son Peter volunteered for the German army when World War I began.  Her diaries record the sequence of events:
Read the rest of this entry »
Posted in Post | 2 Comments »