Posted by Thomas Nephew on 23rd September 2009
"The terrorist mastermind had slipped through their fingers before, and American forces were not about to let it happen again.  At one point the previous year, they had actually arrested him but, not realizing who he was, had let him go.  Unable to track him down now, they managed instead to locate and detain his wife…"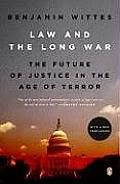 This post is part of a
"Law and the Long War"
discussion series.

Thus begins the introduction to "Law and the Long War," Benjamin Wittes' book length polemic for new laws in new times.  The story continues with the wife being told her sons would be flown to their likely deaths in a hostile country unless she gives up her husband, which she does.  Wittes uses the case to introduce his theme:
"In the years since September 11, 2001, a gulf has opened up between the views of elites, mostly but far from exclusively liberals, and majority opinion on such questions of presidential power as detention, surveillance, interrogation, and trial of suspected terrorists. … Public opinion has tended to regard these issues pragmatically — tolerating tough measures and contemplating with relative equanimity the deprivation of certain rights to terrorist suspects that are nonnegotiable in a civilian context…"
Not so the "academy, the press, and the human rights world," beguiled by moral absolutes and transfixed by the fear of executive power.  They're out of luck now, though, because Wittes is about to spring his trap:
But let me now confess that I have adjusted somewhat the facts of my opening anecdote… The plane was really a train; the country was Germany; the soldiers were British, not American; the year was 1946. And the high-value detainee was no Al Qaeda figure, not even a figure who posed a great prospective danger, but one of the great mass murderers of all time: Rudolf Hoess, the commandant of Auschwitz.  […]

If the tactic — and the absence of any judicial review of its use — does not suddenly seem more defensible … [then my] purpose in this book is to shake somewhat the certainty of your nonconsequentialism and, in particular, your faith in judges as the essential check on such executive behavior.  I share neither your certainty nor your faith and can only thank God that neither did the British soldiers who captured Rudolf Hoess.

Now I certainly stipulate that Rudolf Hoess was a very, very, very bad and odious man who deserved to be arrested, tried, and punished.  But I still wonder if this isn't a very odd opening anecdote for Wittes to choose.
For, as Wittes even acknowledges, Hoess was "not even a figure who posed a great prospective danger." The war was over, the Holocaust was over; little remained to be prevented.  This might not seem a great difficulty – the sheer scale of Hoess's crimes demanded that justice be done and punishment meted out.  But it is — even for Wittes; in fact, especially for him.
Posted in Post | 10 Comments »