Posted by Thomas Nephew on 22nd September 2006
Remember Abu Ghraib Guy? After hundreds of thousands of words about all this, it looks like he's still in a world of hurt, following the "Agreement on Common Article 3" of the Geneva Conventions between Republican senators and the Republican White House. That's because human rights and legal experts disagree on whether this — a.k.a. "long time standing" — will be OK or not*: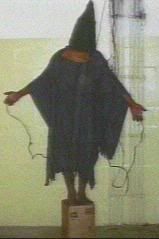 Elaine Massimino (Human Rights First) thinks it isn't OK under the agreement, Marty Lederman thinks it is. This gives me a bad, bad feeling that the White House thinks it is, too. So does this comment to the Washington Post, via Lederman:
Bush essentially got what he asked for in a different formulation that allows both sides to maintain their concerns were addressed. 'We kind of take the scenic route, but we get there,' the official said.
Scenic route. Whatever. It will be a moot point for fellows like this in the future, because they won't be able to complain about it to anyone:
SEC. 7. TREATY OBLIGATIONS NOT ESTABLISHING GROUNDS FOR CERTAIN CLAIMS.

(a) IN GENERAL.—No person may invoke the Geneva Conventions or any protocols thereto in any habeas or civil action or proceeding to which the United States, or a current or former officer, employee, member of the Armed Forces, or other agent of the United States, is a party as a source of rights, in any court of the United States or its States or territories.
The whole thing is retroactive through 1997, when the prior code was legislated, so all the people who've been busy doing whatever nasty Yoo-designed torture loopholes this was all about will be home free, as will Yoo et al themselves, I'd guess.
Bear in mind that the fellow in that picture in the future may be as innocent of anything as, say, Maher Arar was. He'll just have a good deal more trouble being heard.
This is a pathetic joke, McCain, Warner, and Graham are a bunch of frauds, and this measure should be filibustered or otherwise delayed until dead.
=====
* As we'll all proudly recall, the guy was told he was wired so that he'd electrocute himself if he stumbled off the box into standing water below him; I believe that was a deception practiced on him, hence the hood. I don't know where that would fit in all the verbiage of this agreement, but assume it's prohibited, and one still has difficulty seeing where the fundamental part of this ordeal — "long time standing", overnight in his case IIRC — is specifically prohibited; it looks more like it's specifically overlooked.
UPDATE, 9/22: Publius ("Legal Fiction"), another lawyer-blogger, compares the McCain, Bush, and compromise bills and declares "Bush Wins." He suggests some of the language "arguably pushes criminal liability down the chain of command." Knock me over with a feather. He also suggests "the penalties for "cruel" punishment will not be determined by the existing penalties under the War Crimes Act, but by the President through administrative penalties."
UPDATE, 9/22: More bad reviews: A Bad Bargain (New York Times); The Abuse Can Continue (Washington Post). Slate:"the Post reports defendants will be allowed to see it in "summary or redacted form." (Of course, the extent of the redaction is critical: "We are sentencing you to death because of evidence you ?????? on ???? with ??????" isn't very helpful.)"
Posted in Post | No Comments »