Posted by Thomas Nephew on September 23rd, 2009
"The terrorist mastermind had slipped through their fingers before, and American forces were not about to let it happen again.  At one point the previous year, they had actually arrested him but, not realizing who he was, had let him go.  Unable to track him down now, they managed instead to locate and detain his wife…"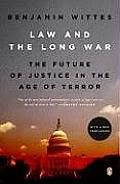 This post is part of a
"Law and the Long War"
discussion series.

Thus begins the introduction to "Law and the Long War," Benjamin Wittes' book length polemic for new laws in new times.  The story continues with the wife being told her sons would be flown to their likely deaths in a hostile country unless she gives up her husband, which she does.  Wittes uses the case to introduce his theme:
"In the years since September 11, 2001, a gulf has opened up between the views of elites, mostly but far from exclusively liberals, and majority opinion on such questions of presidential power as detention, surveillance, interrogation, and trial of suspected terrorists. … Public opinion has tended to regard these issues pragmatically — tolerating tough measures and contemplating with relative equanimity the deprivation of certain rights to terrorist suspects that are nonnegotiable in a civilian context…"
Not so the "academy, the press, and the human rights world," beguiled by moral absolutes and transfixed by the fear of executive power.  They're out of luck now, though, because Wittes is about to spring his trap:
But let me now confess that I have adjusted somewhat the facts of my opening anecdote… The plane was really a train; the country was Germany; the soldiers were British, not American; the year was 1946. And the high-value detainee was no Al Qaeda figure, not even a figure who posed a great prospective danger, but one of the great mass murderers of all time: Rudolf Hoess, the commandant of Auschwitz.  […]

If the tactic — and the absence of any judicial review of its use — does not suddenly seem more defensible … [then my] purpose in this book is to shake somewhat the certainty of your nonconsequentialism and, in particular, your faith in judges as the essential check on such executive behavior.  I share neither your certainty nor your faith and can only thank God that neither did the British soldiers who captured Rudolf Hoess.

Now I certainly stipulate that Rudolf Hoess was a very, very, very bad and odious man who deserved to be arrested, tried, and punished.  But I still wonder if this isn't a very odd opening anecdote for Wittes to choose.
For, as Wittes even acknowledges, Hoess was "not even a figure who posed a great prospective danger." The war was over, the Holocaust was over; little remained to be prevented.  This might not seem a great difficulty – the sheer scale of Hoess's crimes demanded that justice be done and punishment meted out.  But it is — even for Wittes; in fact, especially for him.
That's because one of Wittes' chief assertions in the introduction (and throughout the rest of the book) is that in wartime "legal rules are inevitably less absolute, less truly legal, in this context than, for example, in the domestic civilian context" — and that "[d]iscerning the reason requires no great imagination: The stakes are too high for anything else. […] … even the worst individual crimes represent manageable horrors from a societywide point of view.  Terrorism, by contrast, involves horrors on an altogether different scale.  And international conflict at its core is about avoiding harms — particularly catastrophic harms — prospectively, not retroactively accounting for them." (p. 9-10)

Yet "avoiding harms prospectively" is precisely not what Wittes' Hoess example was about; again, the harm was done, the war was over.  And this not just a debating point: while Wittes advocates what he calls "preemptive" policy explicitly premised on avoiding prospective catastrophic harm, his very first example widens his approval to other "preemptions" of the law — even as he ignores the obvious retort that Hoess might well have been caught by more acceptable means the next day or the day after that.  (Indeed, he might have been caught the day before; as Wittes relates, Hoess had already been arrested once but wasn't recognized for who he was.)
This, in turn, leads to a partial response to Wittes' other concern: what he sees as the legislative branch's abdication of its responsibilities, a political vacuum then filled by the judicial branch's overweening, misguided efforts to adjudicate issues that are properly none of its business.  To be sure, Wittes frames this in what becomes his familiar "neither/nor," balancing style: by themselves, "[n]either unilateral rule making on the part of the president nor judicial review of whatever rules he makes up can mold a stable long-term architecture for a war that defies all of the usual norms of war."
Yet imagine that some legal program were enacted entirely with a view to meeting Wittes' stated concerns, i.e., resulting in laws granting the President powers to prospectively avoid defined harms in defined and legal ways.  We would nevertheless sometimes be faced with hard legal questions — and given the problems mentioned above, his Hoess case might be one of them.  So the courts would still be called on to interpret the law.
The point is simply that there will always be "chalk lines" — sometimes vague ones, sometimes not — separating the legal playing field from a world deemed out of bounds by a country's constitution, traditions, and legislative judgment. And deciding when to signal "out of bounds" will always be the judicial branch's job — whether or not the laws in place at any given moment have Wittes' seal of approval.
My comments so far have been somewhat critical; I'll end more favorably, in that I agree very much with Wittes that Congress has all too often been missing in action in the debates around habeas corpus, surveillance, and other civil liberties during this "long war."  I suspect I'll disagree in part about why, and about what it should do once (or if) it more vigorously joins that debate.  But I agree that clarifications of executive powers are sorely needed, and Wittes' book does a service in motivating that need, and ably presenting at least one side of a complex debate.
=====
NOTE: This is part of a series on "Law and the Long War," in collaboration with "The Talking Dog." — PRIOR – HOME – NEXT .
UPDATE, 9/23: Talking Dog's post about the introduction.