Posted by Thomas Nephew on June 18th, 2008

HRF reception for interrogators against torture
Originally uploaded by Thomas Nephew
Yesterday's Wall Street Journal ran an op-ed titled "The Torture Gambit" decrying renewed congressional hearings on torture:
Nearly seven years after 9/11, the U.S. homeland hasn't been struck again and American civil liberties remain intact. So how does Congress say "thank you"? By trying to ruin the men who in good faith set the legal rules that have kept us safe.
But breaking human rights law isn't legal just because John Yoo or William Haynes II say it is. What's more, it isn't "just" wrong — it's ineffective and unsafe for the rest of us as well. I attended a "Human Rights First" (HRF) reception sporting the lengthy title "Winning the Asymmetrical Conflict—How We Can Gain the Intelligence We Need And Stay True to our Nation's Values" yesterday after work that wound up giving that editorial the lie.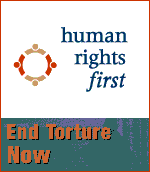 Human Rights First has brought together about twenty pros with significant interrogation experience this week to lobby Congress and the presidential campaigns, and to speak to the public about what works and what doesn't when it comes to gaining credible intelligence — as opposed to unreliable information — from interrogations. Among them are Colonel Stuart A. Herrington, U.S. Army (Retired), with service in Vietnam, Panama , and Operation Desert Storm; Joe Navarro, who served for more than 25 years with the FBI as an interrogator, an agent and a supervisor working in the area of counter-terrorism and counter-intelligence; and Ken Robinson, who served a twenty-year career in a variety of tactical, operational, and strategic assignments including Ranger, Special Forces, and clandestine special operations units, the National Security Agency, Defense Intelligence Agency, and the Central Intelligence Agency.
In other words, seasoned professionals who know what they're talking about, not a hippie among them; these three are speaking today at an "Effectively Interrogating Terrorism Suspects" panel hosted by HRF and the CSIS (Center for Strategic and International Studies) Human Rights and Security Initiative.
While I didn't speak with any of them, I did wind up talking for a while to another interrogator — now retired from government service — with a resume fitting in with those described above, including interrogations of the so-called "deck of cards" Baathist Iraqi officials and the like in the aftermath of the 2003 invasion. Since the reception was "off the record", I won't say who he was, but can report the gist of what we discussed.*
Much of that is captured in the title — "I want my white hat back," he told me. All his career he had assured people that "we don't use thumbscrews", and that torture was counterproductive. After Abu Ghraib, he said, he got a lot of "I thought so all along" looks and comments that bothered him greatly.
For his part, he had always stuck to the guidelines for legal, Geneva Conventions compliant interrogations, and felt he had gained good intelligence that way. From the 1992 Army Field Manual FM34-52 for Intelligence Interrogation:
Experience indicates that the use of prohibited techniques is not necessary to gain the cooperation of interrogation sources. Use of torture and other illegal methods is a poor technique that yields unreliable results, may damage subsequent collection efforts, and can induce the source to say what he thinks the interrogator wants to hear.

Revelation of use of torture by US personnel will bring discredit upon the US and its armed forces while undermining domestic and international support for the war effort. … (p. 1-8)
He emphasized that the HRF legislative and lobbying goal for his group was simply forward-looking rather than "finger pointing". While HRF is following the current oversight hearings on its "End Torture" blog, the goal of the HRF interrogator lobbying initiative is to support a new policy that all interrogations — whether by the military, the CIA, or any other part of the U.S. government — should be "rapport-based": non-coercive, nontorture. (Shaking his head, he said that used to be assumed.) He felt that the vast majority of professional military and other interrogators felt that way. But speaking just for himself, he agreed that "without accountability, there will be a smudge on that white hat"; "we're on the same side" in that respect.
Human Rights First is doing important work in bringing expert legal, medical, military, and intelligence people together to oppose torture; they also support human rights defenders around the world, and lobby politicians and educate the public about Darfur, immigration, and other human rights issues. Readers should have a look at their web site, subscribe to their alerts, and do whatever they can to support the organization.
=====
EDITS, 6/18: "about twenty pros with significant interrogation experience" and "[military,] and intelligence [people]" — FBI and CIA interrogators were also present, not just military interrogators.
UPDATE, 6/19: link to HRF/CSIS panel "Effectively Interrogating…" added.
* UPDATE, 6/20: I incorrectly understood "off the record" here. I felt my conversation at the reception could be conveyed in broad strokes on condition of anonymity, which I honored. I can't quote an exchange to that effect, but believe Ray agreed with that (Ray later told me "Ray" is a pseudonym). As is clear from his ongoing participation here, my impression was correct, and anonymity/pseudonymity was Ray's main concern.
However, this post may have violated HRF's understanding of the ground rules for the event (not that I've heard that from them). If so, I apologize, and hope no harm was done; I felt our conversation was our own, and that I was simply not supposed to attribute names to statements, or what was said "officially" by speakers (who were brief). For what it's worth, the HRF explanation for "off the record" was that sensitive information might be discussed, and I neither wrote about or heard such discussion.